Want to reduce your time-to-market without sacrificing product quality? To get it all, just pick one of the finest performance testing companies from the list below.
What is Performance Testing?
The practice of examining how a system performs in terms of responsiveness and stability under a specific load is known as performance testing. Performance tests are frequently used to assess the performance, robustness, dependability, and size of an application. The procedure includes "performance" markers like
Response times for the browser, the page, and the network.
The time it takes for the server to complete a request.
Concurrent user volumes that are acceptable.
Memory usage by the processor; the number and type of problems that may occur when using the app.
Why do you need performance testing service providers?
To overcome the limitations of parallel user testing.
To improve the testing efficiency.
To lower the cost of problems discovered after the release of a product.
To ensure that the system is reliable.
Providers of performance testing services assist you in identifying and eliminating performance bottlenecks in your software application. The below businesses provide services like performance monitoring, automated testing, manual testing, App Testing, website testing, and others.
20+ Top Performance Testing Companies
Below is the list of 20+ best load/performance testing companies:
1) QACraft
2) ScienceSoft
3) Mindful QA
4) Infosys
5) Microexcel
6) Tech Mahindra
7) A1QA
8) SPEC INDIA
9) Performance Lab
10) iBeta
11) Cybage
12) Indium Software
13) Algoworks
14) JadeGlobal
15) Thinksys
16) QualityLogic
17) QAwerk
18) ZenQ
19) ImpactQA
20) TestingXperts
21) Testvox
22) KiwiQA Services
23) Simform
Read the brief about top-rated performance testing companies here:
QACraft is a leading software testing agency that offers comprehensive performance testing services.
Our performance and load testing services are designed to assess the performance of components inside a system and under various loads. QACraft offers a variety of performance testing services, including consultations, evaluations, proof-of-concept tools and techniques, on-demand performance testers, and completely managed services. We also have unique and new techniques for performance testing to ensure that performance is built into the system or application during development.
Our performance and load testing services include reliability testing, scalability testing, endurance testing, stress testing, load testing, capacity testing, and other services.
A US-based performance testing company, ScienceSoft helps customers ensure their systems are stable and function well under expected, continuous, and stress loads. SaaS vendors and enterprises from 30+ industries entrust their software to ScienceSoft's testing teams with ISTQB-certified testers on board. The company is proficient in testing all types of software and architectures, including:
Web, mobile, and desktop apps.
Microservices and SOA-based apps.
Software Powered by advanced techs (IoT, big data, blockchain, AI/ML).
Software for medical devices, ATMs, VR, PoS, etc.
To optimize performance testing costs and guarantee zero severe performance defects in production, ScienceSoft relies on a flexible pricing policy, testers' skills most appropriate to the required tasks reusable test cases, and complete and clear test reports.
ScienceSoft holds ISO 9001 and ISO 27001 certifications, which testify to the quality of their performance testing services and the security of the customers' data.
Mindful QA's performance testers have years of expertise utilizing tools like JMeter to provide performance testing services. They may load tests manually or build up automatic programs to test your performance on a regular basis.
Infosys is an IT firm with a team of highly skilled engineers who specialize in performance engineering. It is one of India's leading performance testing firms, assisting you in implementing Agile or DevOps in your company. Infosys uses technology to overcome performance testing issues and provide a system that is future-proof.
Microexcel is a software firm that provides comprehensive and unique performance testing solutions and services. The firm has extensive business processes and industry knowledge. Microexcel is accessible to provide services to clients 24 hours a day, seven days a week.
Microexcel assists you in managing your personnel to increase production. It provides on-demand software architects and performance analyzers to help you increase the performance of your applications.
6) Tech Mahindra
Tech Mahindra provides technology services that are both innovative and customer-focused. Tech Mahindra aims to rise among global leaders while encouraging development. The organization offers both service and business solutions. Tech Mahindra offers services across a variety of platforms.
7) A1QA
A1qa is based in Lakewood, Colorado. A1QA strives to make a noticeable, long-term, and significant difference in its clients' businesses. They believe that their staff is their most valuable asset in helping their clients grow their businesses.
8) SPEC INDIA
SPEC INDIA is a leading provider of software testing and quality assurance services in India. This business is primarily concerned with improving the quality of each and every job.
This company meets your needs by testing the performance of your software across a variety of devices and platforms. It's one of the top software performance testing services, with a variety of bug tracking, functional, and performance testing capabilities.
9) Performance Lab
PerformanceLabs has been assisting companies and product teams in the development of high-performance websites, mobile apps, and enterprise systems since 2008. Their performance engineers load test complicated systems on a daily basis for banks, telecommunications, retail, and healthcare industries.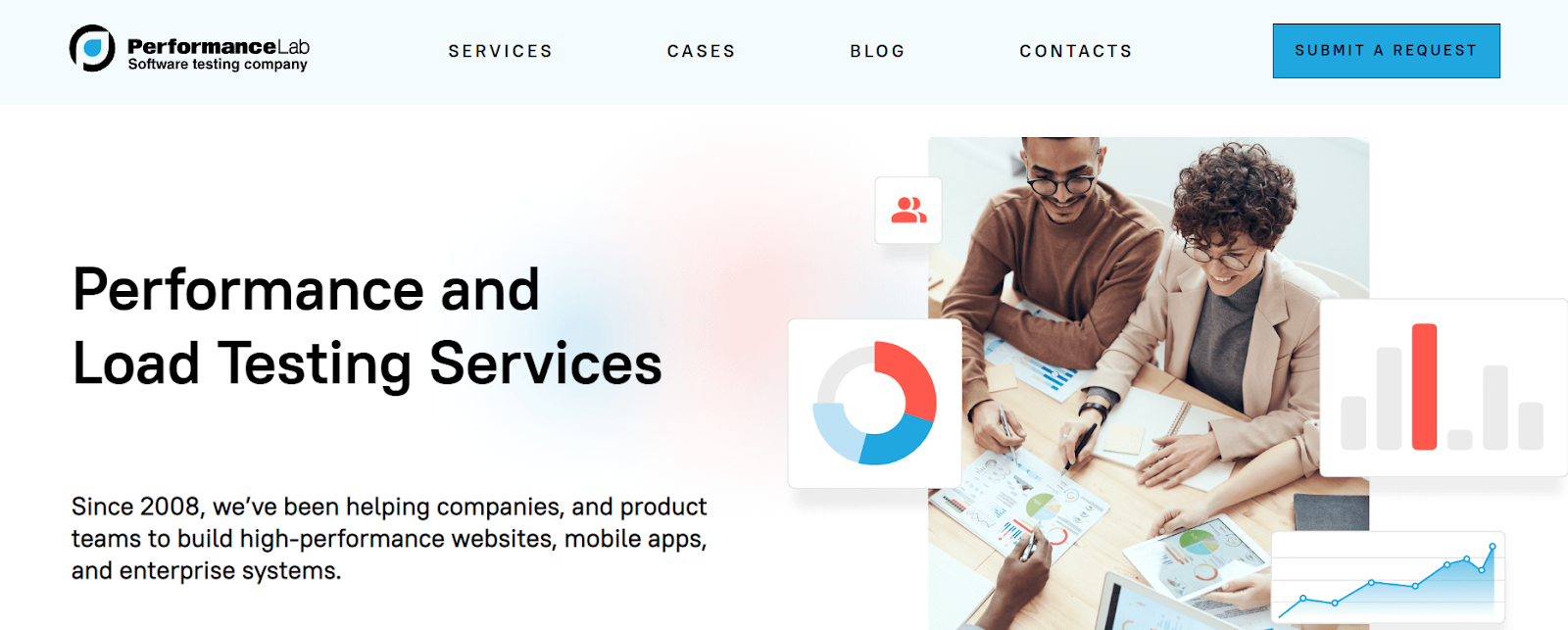 10) iBeta
iBeta has a vast infrastructure and highly qualified engineers who are excellent at testing your product's scalability. Whether your product is client/server, mobile, web-based, or something else entirely, the experts at iBeta can create tests that are tailored to your needs.
As a cost-effective solution to speed up the load testing procedure, iBeta offers unique performance scan bundles. The packages provide a specialized, fixed-cost load-testing solution.
11) Cybage
Cybage is a software firm that specializes in performance testing for essential application behavior. It provides quality assurance based on SLAs, platforms, sub-components, platforms, and other app dimensions.
For lead generation, service monitoring, and page analysis, this software tester organization employs a variety of techniques. It has experience leveraging open-source software and cloud services to create an on-demand performance testing platform. Cybage is compatible with a wide range of platforms, including Java, Windows, LAMP, and mobile.
12) Indium Software
With over two decades of experience, Indium is a global leader in Performance Testing Services. They provide load and performance testing services to ensure that your next-generation apps, databases, networks, and website servers are running at peak performance. Indium has stayed ahead of the competition because of a process-oriented strategy combined with a client-first mentality.
13) Algoworks
Algoworks offers a full suite of application load-testing services to help you test your applications' limits. We assist businesses of all sizes, from startups to enterprises, in maximizing cloud and web performance and providing solutions to increase performance in areas where it is lacking.
14) JadeGlobal
Jade Global is an outsourcing company that offers business solutions. It was founded in 2003 and has its headquarters in San Jose.
Jade Global pledges to provide better service to its customers. Jade Global is always on the lookout for the greatest service providers and cutting-edge technology.
15) Thinksys
Thinksys provides performance testing services across a wide range of domains and platforms, including desktop, web, cloud, mobile, and analytics. Their performance testing professionals have always demonstrated their experience and proficiency by consistently giving the best possible performance testing solutions while maintaining great quality assurance. Whatever the problem, Thinksys' professionals are always available to assist you.
16) QualityLogic
QualityLogic's test experts have the competence to develop a full-court test suite that employs all system functions in concert at measurable levels, as well as thorough operational deterioration and fault detection.

17) QAwerk
QAwerk is a software firm that offers clients performance testing services. It allows you to speed up the creation and execution of test cases. QAwerk helps you to determine the optimal configuration of equipment and allows you to check the system's performance and reaction in real time as the configuration changes.
18) ZenQ
ZenQ's Performance Testing Services assist you in identifying and resolving any performance issues that could result in revenue and reputation loss early in the application development lifecycle.
19) ImpactQA
ImpactQA's QA performance testing experts conduct thorough investigations in order to provide actionable recommendations for performance enhancements. The high-end expertise we have associated with open-source/commercial off-the-shelf (COTS) tools and numerous application technologies can be used to evaluate their competence as a performance testing organization.
20) TestingXperts
TestingXperts helps you predict application behavior and performance in a simulated, real-world environment, saving you time and money in the long run by avoiding unpleasant events that frustrate customers and reduce profitability. They make that the app is responsive and stable enough to handle peak load days like Black Friday, as well as future events like product releases, client acquisitions, regulatory changes, and ongoing business growth. We also make certain that the apps can meet any contractual responsibilities or service level agreements.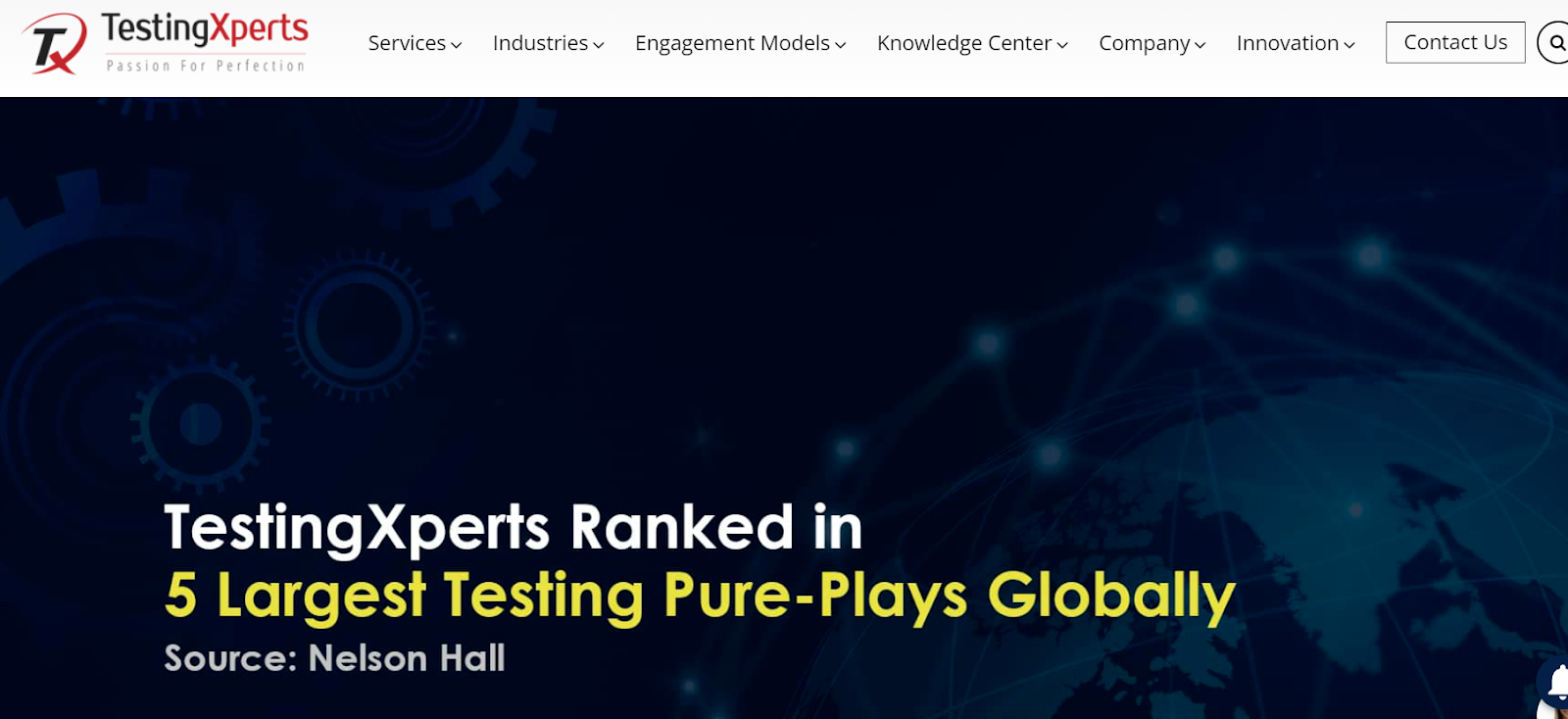 21) Testvox
Testvox is a performance testing service provider that makes it simple to replicate system behavior. It allows you to keep track of both private and public APIs.
This company does stress and load tests on Linux and Windows systems. It assists you in meeting the software's stability and scalability requirements. Testvox also examines your software's network compatibility and performance in relation to the hardware.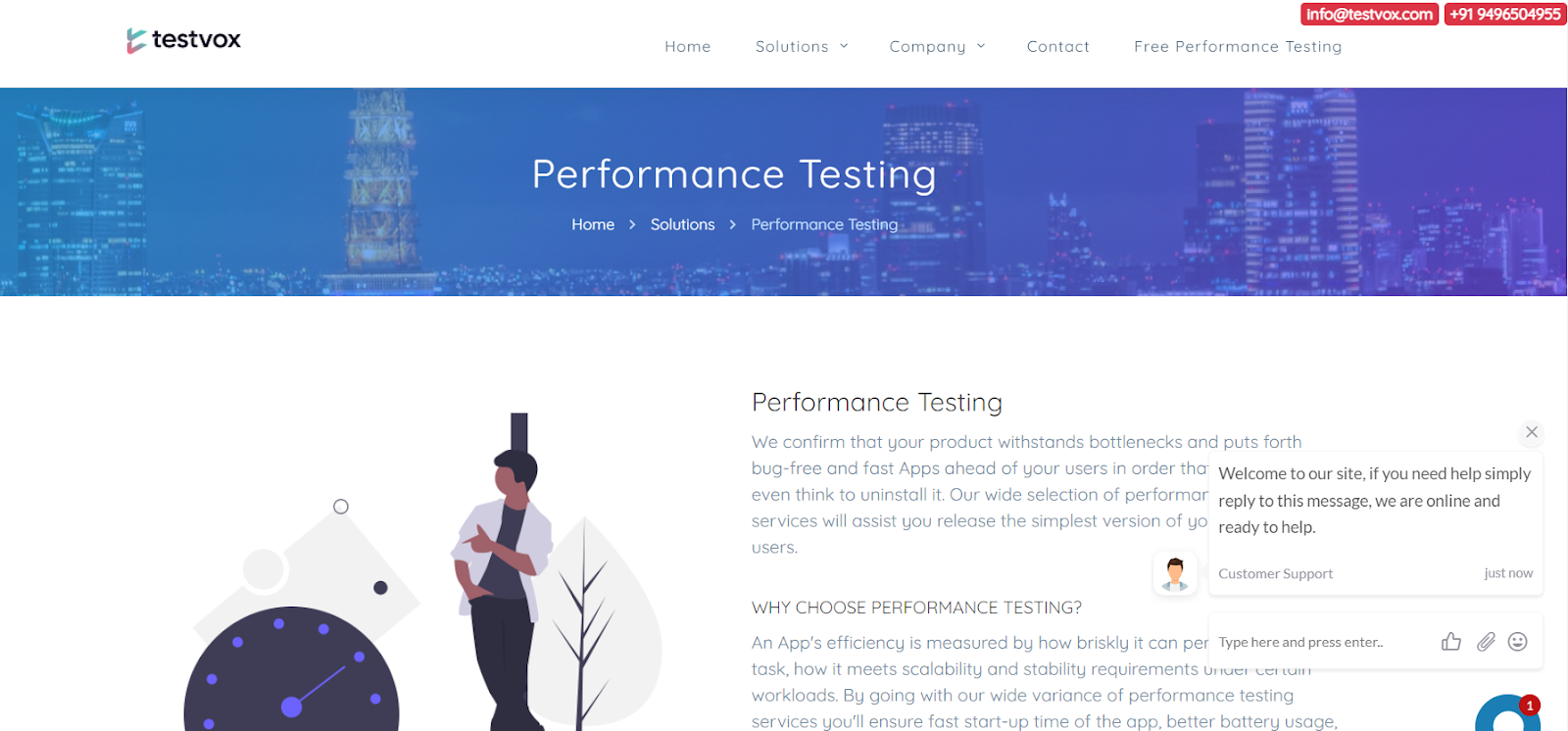 22) KiwiQA Services
KiwiQA is a prominent performance testing company that does load testing on apps, software, and websites to ensure that they function at their best. They have qualified and experienced testing professionals who can provide unrivaled services. Their exhaustive assessments provide a thorough examination of the app, software, or website, including information on the maximum load that the product can handle as well as the probability of crashes.
23) Simform
Simform has more than a decade of expertise deploying comprehensive performance testing services that help you maintain consistency in user experience and reduce frequent timeouts to increase your business value.
Simform's comprehensive range of performance testing services has been carefully designed to help you provide a consistent user experience 24 hours a day, seven days a week.
Conclusion:
We hope that the above article"best performance testing companies" helps you in your search for the best testing company to analyze the quality of your app.

Read Also:
1) Top Automation Testing Companies
2) Best Mobile Application Testing Companies
3) Top-rated Manual Testing Companies
4) Best E-commerce Testing Services Providers