Best E-commerce Website Testing Companies in India
Finding the Best Ecommerce Testing Company can be more difficult whether you're looking in India, the USA, or the UK. By choosing the best eCommerce testing and QA services, you may greatly and urgently improve the quality of your website as well as the app.
In this article, we will see the top-rated E-commerce Website Testing Services providers that will provide affordable shopping app/website testing solutions. I have collected the 20+ E-commerce Testing Services agencies, and you can select the best one that fits you.
Top-rated E-commerce Testing Services Agencies
E-commerce is one of the fastest-growing sectors in India and around the globe. E-commerce websites and apps are becoming more popular in today's highly competitive environment. So, E-commerce testing is crucial to ensuring the user-friendliness of the functionality and design of the applications.

According to recent research, the E-commerce industry will become the second-largest market in the world by 2034.
Are you looking for E-commerce Testing Agency? Here we will discuss the Shopping/retail/eCommerce Testing service providers that provide the best QA solutions.
Top 20+ E-commerce Testing Services Providers in India
QACraft
CredibleSoft
TestBytes
KiwiQA
Cigniti
Happiest Minds
Qable
Testrig Technologies
Thinksys
W3Softech
Abstracta
Manektech
Testmatick
OrangeMantra
Tech2globe
Testfort
Testlio
Bugraptors
Testingxperts
A3logics
QASource
Sciencesoft
Find the brief about the leading eCommerce testing companies:
QACraft
Website: https://qacraft.com
QACraft is a Leading E-commerce Testing Company based in Vadodara, India. We provide software testing and QA services like automated testing, manual testing, mobile app testing, domain testing, performance testing, Magento testing, and a lot more. We have a professional team of QA engineers, who can offer the best testing solutions for your online store/app like Ecommerce Website Testing Services, E-commerce domain testing, E-commerce Application Testing Services, and much more.
Our Expert QA Team will provide an exclusive set of tests that help underlying issues of your e-commerce App/ Website. So your website and app can be run flawlessly.
Some of the major industries we serve are banking, healthcare, gaming, finance, travel, and e-learning.
CredibleSoft
CredibleSoft has years of expertise working with hundreds of the best e-commerce platforms worldwide, and our specialized e-commerce testing services are designed to create high-quality e-commerce web software products. Many online retailers have benefited from their professional eCommerce testing services in managing consumer data online safely and greatly enhancing the overall functionality of online businesses.
TestBytes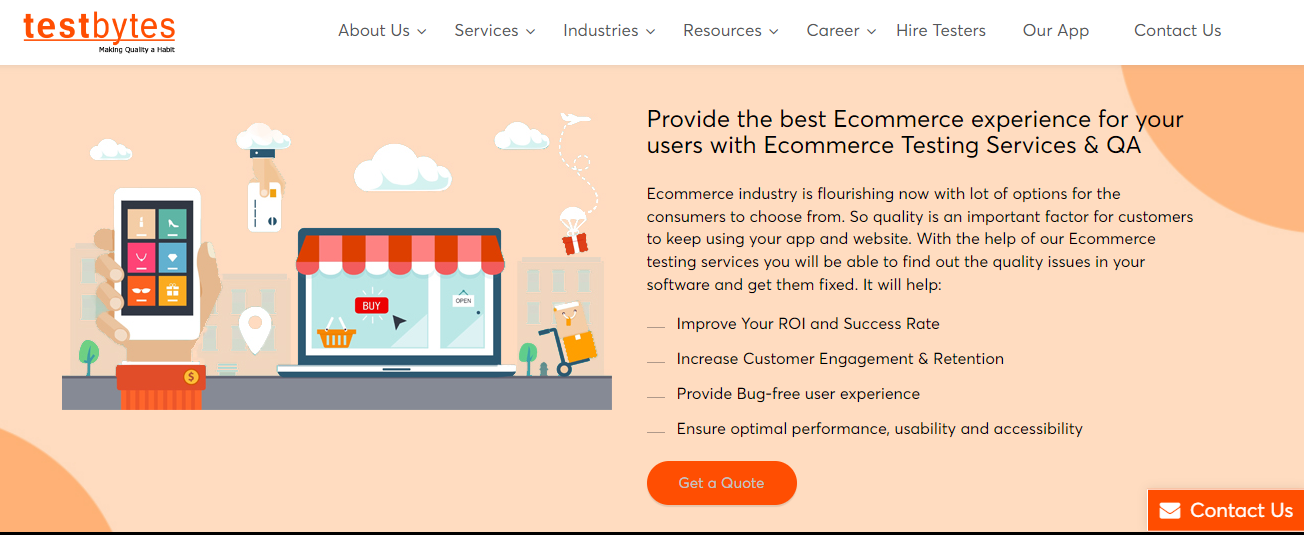 Testbytes provide the best eCommerce experience to your eCommerce app/website users. Their testing solutions will help to increase ROI & the customer engagement rate of your website/app, and provide bug-free solutions.
KiwiQA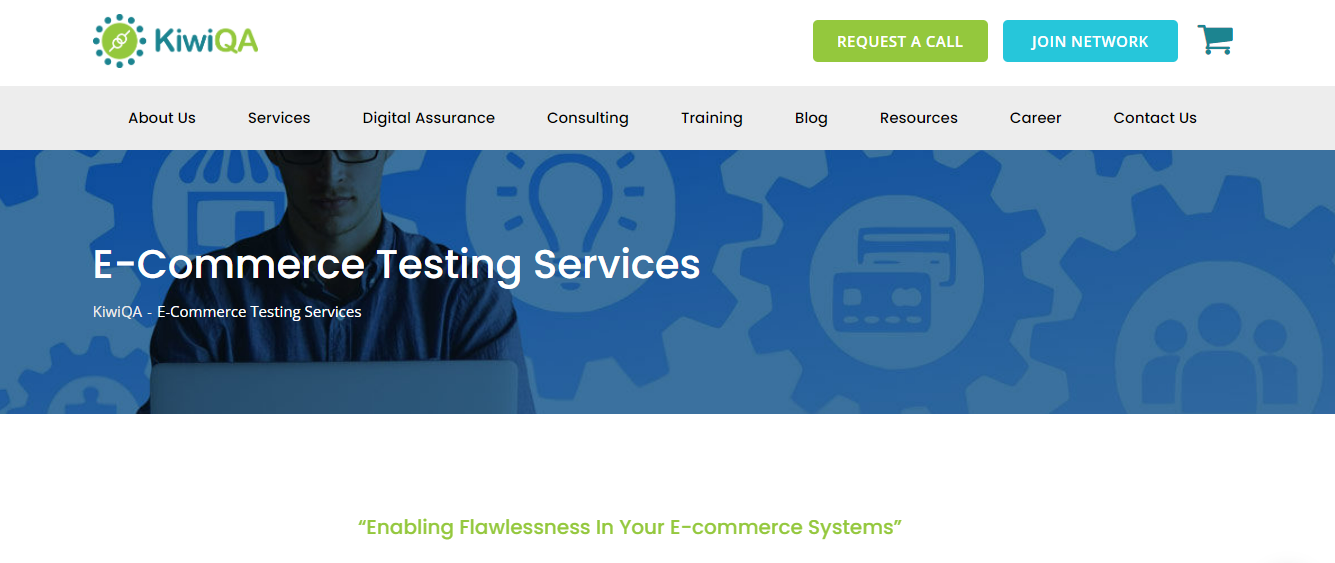 KiwiQA is a QA Company that provides eCommerce testing solutions, allowing their clients to manage the expanding E-commerce company volume with greater scalability and improving the online shopping experience for consumers.
They provide QA solutions and domain-specific tailored testing services based on our testing experience in the e-commerce industry.
Cigniti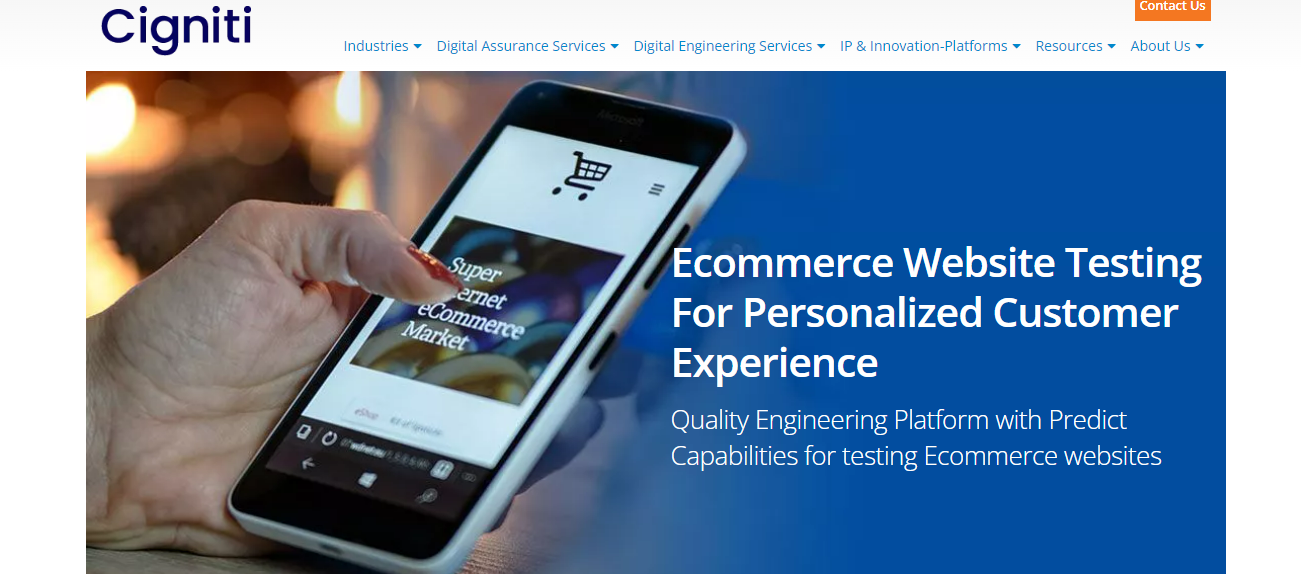 Cigniti is a leading Digital Engineering services and AI & IP-led Digital Assurance Company. Their expert team has deep knowledge and expertise in the retail, shopping, and E-commerce domains.
Happiest Minds
Through knowledge, experience, and technical prowess in the field of e-commerce, Happiest Minds' testing services have strong testing expertise. The impartial verification and validation perspective are brought in by their professional test experts.
They offer a wide range of Quality Assurance and Quality Engineering Services, from Business As Usual (BAU) assistance for testing to E-commerce application deployment validation.
Qable
At QAble, they use a methodical and distinctive approach to provide clients with E-Commerce testing services. They offer cost-effective, and high-quality e-commerce testing services for websites and mobile applications.
They have a group of skilled experts who can test E-Commerce websites and applications effectively.
Testrig Technologies

Testrig Technologies' testing professionals are knowledgeable about the many eCommerce website testing scenarios as well as the industry's unique requirements. For all of your eCommerce testing requirements, they are your one-stop shop.
Their extensive line of e-Commerce Application Testing services aims to provide unbeatable solutions to improve your user experience. Utilize Testrig's services for testing eCommerce web applications to guarantee your website runs as smoothly as possible.
Thinksys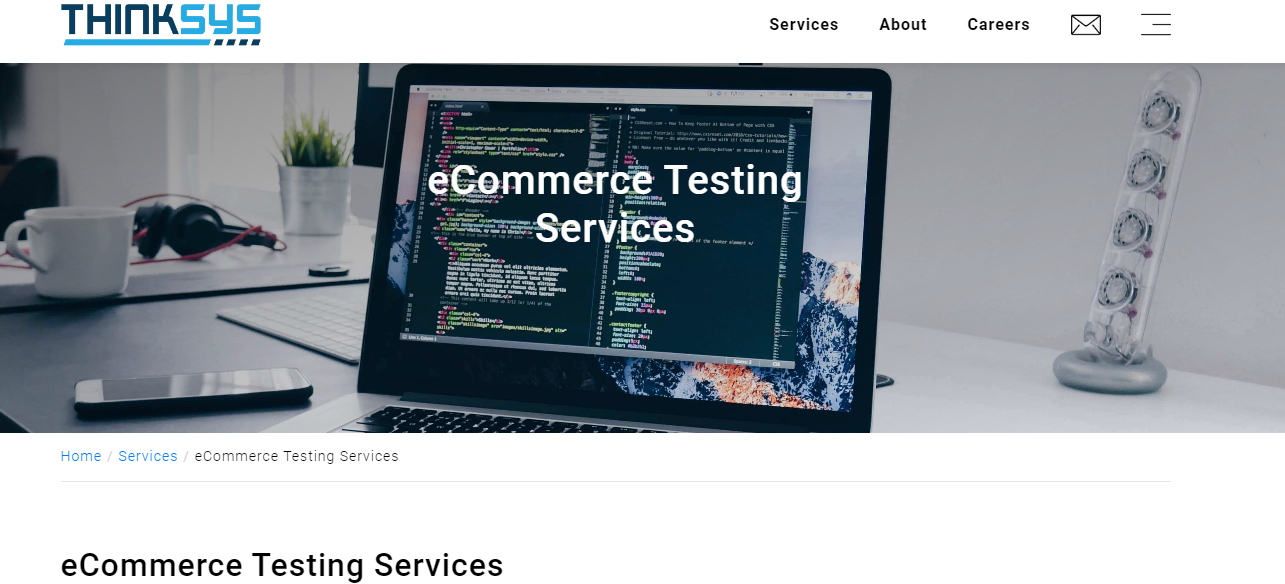 Thinksys is providing unmatched and personalized solutions for your eCommerce websites and applications. They provide a wide range of eCommerce testing services for both web and mobile platforms by utilizing the expertise, creativity, professionalism, and skill of our nimble team.
W3Softech
W3Softtech is a software and QA testing company located in Hyderabad, India. They provide cloud testing, performance testing, big-data testing, agile testing, and more. They also provide testing services for industries like eCommerce, healthcare, insurance, and banking & finance.
Abstracta
Abstracta is a software testing company, they have multiple office locations in the UK, and USA. They have an expert team of testers that can provide you with testing solutions. Abstracta is offer E2E testing, automated testing, performance testing, as well industry domain testing in the E-commerce and retail sector, finance, healthcare, and technology sector.
Manektech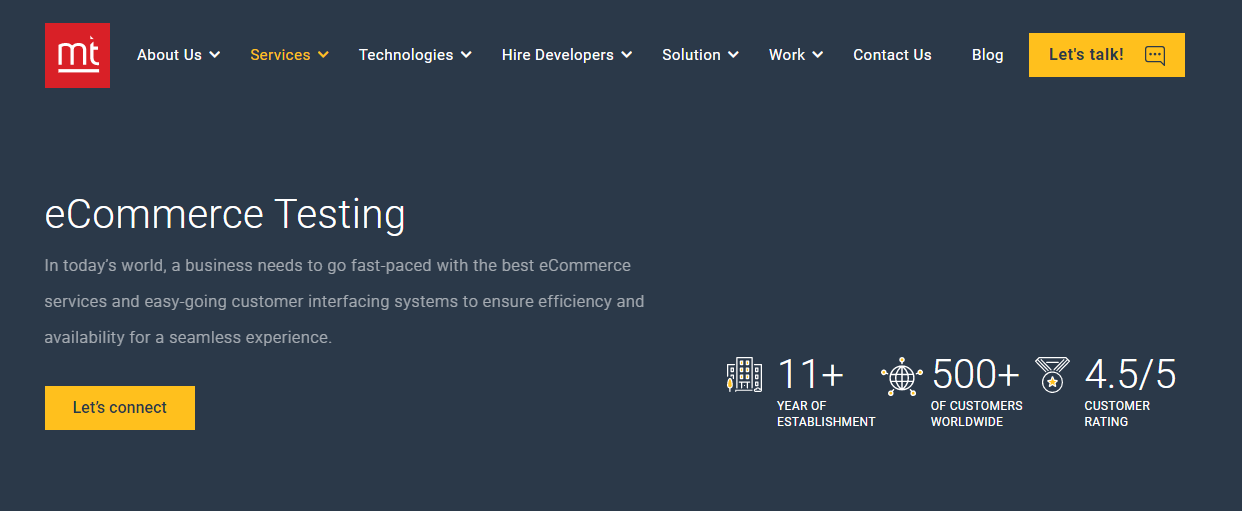 The innovative B2B and B2C eCommerce apps offered by Manektech's eCommerce testing services contain all the necessary components. A wide variety of testing services are available from Manektech, which will hasten the expansion of your company. Additionally, our omnichannel approach to functionality and integration testing has assisted firms in operating efficiently and without experiencing technological difficulties.
They provide a variety of eCommerce testing services, such as automation, application-based testing, performance-based testing, cross-device testing, and usability testing.
Testmatick
TestMatick is a software testing company located in New York, USA. They have considerable expertise in conducting e-commerce testing on well-known e-commerce platforms. The testers at TestMatick are adept at using the newest and most powerful eCommerce testing tools.
OrangeMantra
For more than 20 years, OrangeMantra has provided software testing and development services. They are completely capable of providing what we guarantee because they have approximately two decades of software development and testing experience. The testing services offered by OrangeMantra are created to provide the best outcomes for each client.
Tech2globe
Tech2Globe, one of the leading Ecommerce testing service providers in India, will identify and correct any app-related quality issues.
Tech2Globe provides exceptional skill and experience in the design, development, and implementation of difficult and crucial eCommerce website testing services. Their strategy centered on integrating test scenario testing with the development process and on supplying the economic plan with appropriate site and e-commerce testing solutions.
Testfort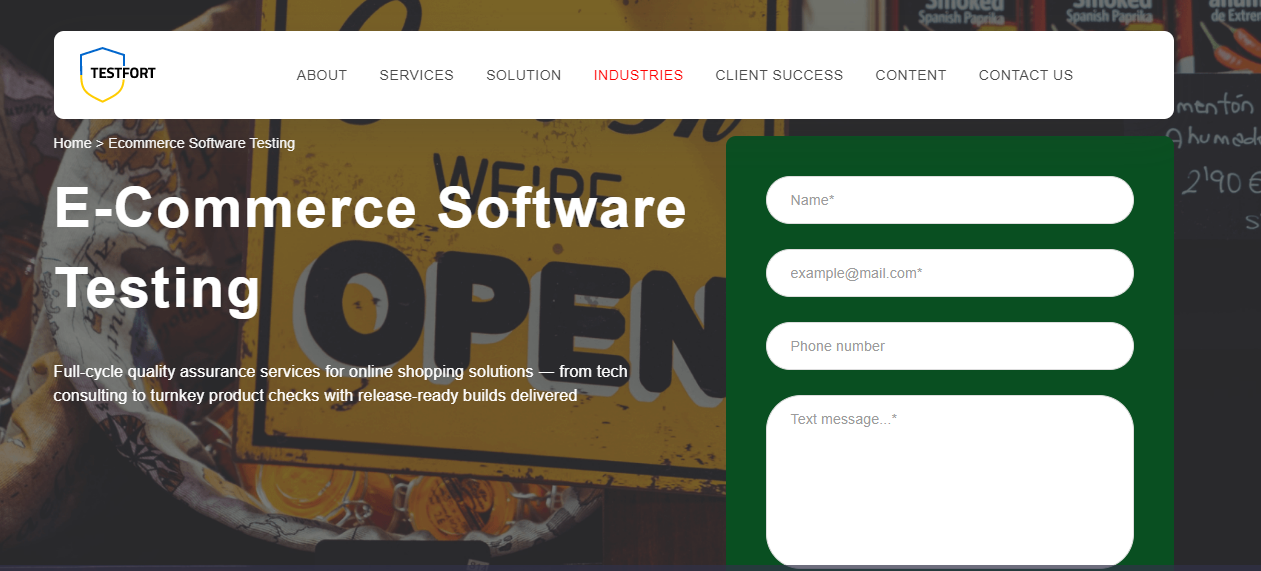 Testing services such as functional testing, usability testing, security testing, performance testing, database testing, and many more are available through Testfort. They also provide quality control services for retail and online shopping solutions.
Testlio
Testlio is a Leading Software Testing Company located in California, United States, and has 5k+ professional testers in the team. They provide Real Device Testing, Regression Testing, AR/VR Testing, Live stream testing, automated and manual testing, Ecommerce, and Retail testing, and more.
Bugraptors
Bugraptors is Located in Mohali, Punjab, and have offices in the UK, Australia, and the USA too. They provide specialized QA services like ERP Testing, Automation Testing, Agile and DevOps Testing, Salesforce Testing, Blockchain Testing, and more.
They also provide retail software testing solutions. From retail goals to your eCommerce needs, they can help you ensure digital quality with your software and applications
Testingxperts

TestingXperts works hard to offer clients the top retail software testing solutions with the verified capacity to maximize time and cost savings. Their value-added services are based on the needs of the customer's business and are prepared to develop any method that is most appropriate for testing requirements by a professional team with all necessary resources.
A3logics
A3logics is a leading IT service provider, serving in 60+ countries for web, mobile app, and software development. They also provide testing services. Their e-commerce testing services give you a user-friendly, and error-free online store.
QASource
Development, testing, and DevOps services for retail applications are all provided by QASource. They have extensive knowledge of OMS, WMS, and TMS as well as a long history of assisting teams in the deployment of top-notch products. They also have experience with all elements of retail and POS applications.
Sciencesoft
ScienceSoft has been testing e-commerce solutions for 19 years and can guarantee the overall quality of your e-commerce solution by doing functional, integration, usability, compatibility, DWH and BI, and security testing.
Why E-commerce website/app testing is necessary?
To enhance the customer experience, rigorous testing of eCommerce websites is essential. If a person sees your website and it takes a while to load or has a lot of mistakes, they won't find it interesting. They will therefore leave even before they have had a chance to interact with the product pages.
Second, website testing identifies the precise flaws of the website. Additionally, it aids in securing and enhancing the website's functionalities. Overall, eCommerce testing helps organizations communicate with, nurture, and convert people by providing an ideal app or website.
Benefits to test your eCommerce website/app
It will improve user-engagement
Increase conversion rate
It will save the business from failure
Improve the quality of your online website/app
Business runs 24/7
You can reach easily the new customers
Business accessible from any location
Conclusion:
You succeeded in attracting users' attention with your marketing efforts. What comes next? Once they've been to your website, you want them to convert. But if consumers encounter obstacles when interacting with your website, it is impossible.
You may fully understand the operation of the eCommerce website and the elements that make it difficult to use by testing it. After analyzing these factors, you can eliminate mistakes and lower risks. The home page, category, and product pages, as well as a checkout, need to be thoroughly examined for minimal abandonments and maximum conversions.
Working with the correct QA team can help you identify the problems early on and raise the caliber of your website. We provide comprehensive and all-encompassing Quality Assurance Services at QACraft. Get in touch with us here to ensure the top-notch quality and performance of your website.
Read Also:
1) Mobile App Testing Companies
2) Automation Testing Service Providers
3) Software and QA Services Agency