E-commerce Website Testing Guide
For 'e-commerce testing' firstly we know what is 'e-commerce'?
Basic 'e-commerce' is a business process implemented on the Internet. With the help of 'e-commerce' buying and selling the product easily with the availability of different types of variety.
In 'e-commerce' websites many features are available like searching for products, filtering products by colors, brand name, etc. and so many payment methods are available.
What is E-commerce testing?
The testing of an online shopping application is called e-commerce testing.
'E-commerce' websites require two types of testing web-based applications and mobile application testing. Testing the application with different browsers and different devices and need to make sure the application is compatible with all devices and different browsers.
Using e-commerce testing, firstly needs to check the design of the website. The website should be easy to access and user-friendly.
Some bugs may occur during development so with the help of e-commerce testing services find the bugs and make the application accurate.
An e-commerce website needs to ensure all the features of the website are working fine, and not any bugs occur when using the website. And make sure about the requirements of the client. An 'e-commerce' website must be secured.
Benefits of E-commerce website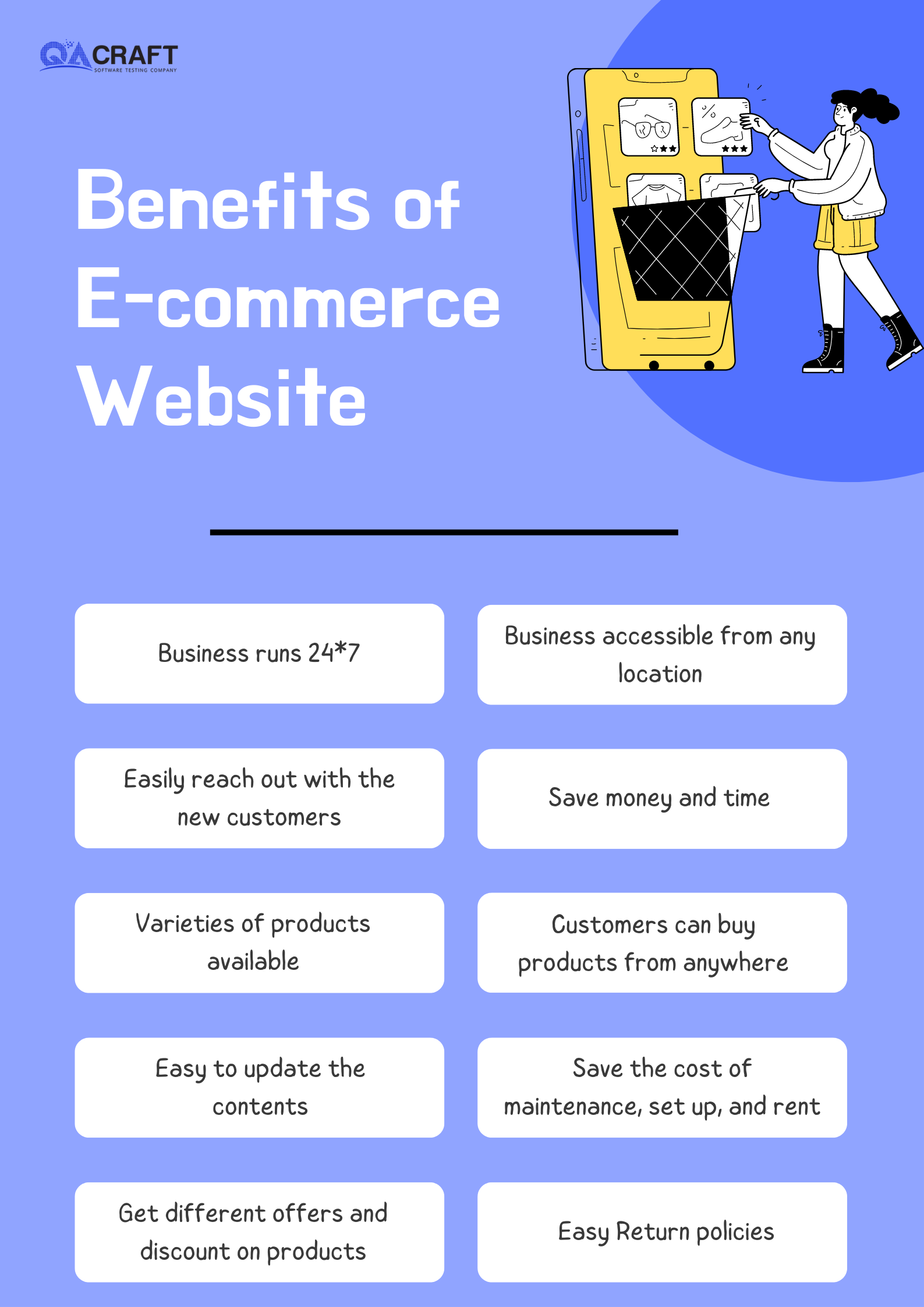 E-commerce websites are open 24*7, which means there is no time limitation in shopping. You can buy your product at any time.
Business accessible from any location
For sellers, Business is accessible from any location like from office, home, out of state, etc. And customers can also buy products from any location without going to a physical location.
Easily reach out to the new customers
In an online store, sellers easily reach out to new customers by providing good services and making different offers.
Using an online store, no need to go to any physical location so it clearly saves time and money.
So many varieties of products available
In online shopping, so many options are available for any product. Like different colors, different sizes, etc.
Worldwide delivery available
Customers get delivery anywhere. Customers can buy products from anywhere in the world.
Get a review of the product easily
Customers write reviews of the product and sellers easily get reviews. So the seller gets chances to improve the products.
Easy to update the contents
For sellers, it is very easy to update the contents like a description of the product, price, etc.
Save the cost of maintenance, setup, and rent
Online Store no needs any physical location so it saves location maintenance, rent, labor cost, etc.
Get different offers and discounts on products
Customers get different types of offers and discount coupon codes in online shopping. So it is very exciting for customers.
If some issues with any products like the product are damaged or customers don't like the product then it is very easy to return the products and replace the products.
Quality Risks That E-Commerce Testing Can Prevent
Online Store Unavailability
This is a very common problem that may be produced from the provider's side. High-level software testing can easily intercept this risk, especially for high loads at peak times, for example, during holiday offers.
Functionality working slower
Most of the customers prefer to browse the items and get all the required information before purchase. So, the slow application is very disappointing for customers.
Design is very important for any website or application. The website needs to be displayed in a proper manner. Sometimes text overlaps, buttons are not clickable, not allowed to enter text, etc. bugs occur in designing.
Shopping Cart Functionality is Poor
Customers can find the goods but are not able to buy them because shopping cart functionality is poor. For Example, Customers are not allowed to add or remove items, not allow them to apply coupon codes. A shopping cart must work nicely because in the cart very sensitive information like address, phone number, and bank details are stored.
In website analytics, it's possible to receive meaningful insights including a sales conversion rate, website traffic, revenue by traffic source, customer procurement cost, customer lifetime value, average order value, and the percentage of returning customers. With poor analytics and testing, a business loses its chance to receive the advantage of a reliable basis for assessing sales, Marketing, and its overall business strategy.
Related Article: Test Cases for E-commerce Website